Community Acupuncture
Community Acupuncture is what you are paying for every time you book an appointment.  This happens in a large room with other people, all of whom are also there for the community acupuncture experience.  You will be escorted to a recliner where you will be given your customized acupuncture treatment, which will last approximately an hour.  Our dedicated staff will be in the room with you while you relax to be sure that you are at peace and comfortable throughout the experience.
Acupuncture is an ancient system of natural healing based on the principles of re-establishing balance in the body.  Balance may be disrupted by many life experiences including trauma, overuse, processes of aging, surgical interventions, and disease processes.  Hundreds of acupuncture points are located on the pathways on the body.  When these points become congested, the resultant imbalance in the system produces symptoms of pain and disorder.  The essence of acupuncture treatment is identifying what is stuck and making this free.
Acupuncture is a treatment that is utilized to improve health maintenance, overall wellness and longevity.  This ancient form of healing has been proven to reverse and reduce the symptoms of many disorders of the body including: anxiety, depression, acute and chronic pain, fibromyalgia, vision problems, digestive disorders, female and male complaints, chronic fatigue and more.
Gua Sha
Gua Sha is a natural remedy that involves using various different types of tools to scrape your skin to improve circulation.  This along with many other services offered at Mt. Airy Acupuncture is another form of ancient Chinese treatment that is utilized to reduce inflammation and therefore chronic pain.  Your acupuncturist will use oil as in any massage and then utilize a tool to scrape your skin.  This technique goes back hundreds of years and is very effective in its uses.  It involves mild pressure and is mainly used on the neck, back, shoulders, arms and legs.
Moxibustion
Moxibustion is an external treatment that you may experience in the Community Acupuncture room.  This Chinese medicine treatment involves burning moxa on top of your skin as pictured above.  Sounds strange, right?  This is actually a very effective treatment for many conditions including chronic pain.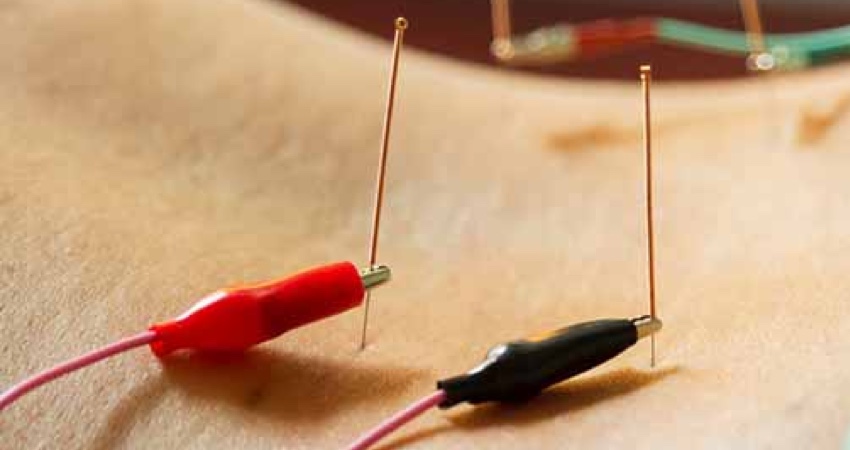 Electroacupuncture
Electroacupuncture is another treatment highly utilized for treating pain.  A small electric current is passed through acupuncture needles.  This painless technique is meant to reset and restart qui to improve wellness and harmony within your body.
Cold Laser Treatment
Cold Laser Treatment is non-invasive and a highly effective treatment for repairing cell damage to reverse and enhance the healing of many ailments.
Tibetan Foot Soaks
A Tibetan Foot Soak is one of the best and easiest ways to achieve wellness faster and more efficiently.  By putting your feet into a bath with a special concoction designed to improve circulation and rid the body of unwanted elements, this foot soak is a highly sought after treatment at Mt. Airy Acupuncture.  Experience this delightful treatment today!
3 Wave Sauna
This impressive sauna is a highly sought after treatment because of the healing potential of heat on sore muscles.  Once you step into this sauna, you'll immediately feel your stress wash away.  Your muscles will relax and your circulation will improve; not to mention all the toxins that will immediately be released from your body.  Experience the magic of this 3 Wave Sauna today!